Corporate Planner Finance is a specialist application for Corporate Planner it simplifies the integrated financial planning process. Producing detailed integrated financial planning models is a challenge especially if there is more than one company.
Most companies consider regular detailed planning of profit and loss. This planning is often done in detail in Excel
However, when it comes to looking at these plans effects on the balance sheet and cash flow excel models are often simple and don't accurately reflect the business.
Corporate Planner Finance helps to improve the integrated financial planning process by providing a structured framework using definable logic blocks to create the planning connections between Profit & Loss, balance sheet and cash flow.
Corporate Planner Finance can be a standalone application or can be part of a fully integrated corporate performance management solution with other planning solutions using Corporate Planner
Key Features of Corporate Planner Finance
Detailed Integrated Financial Planning in a database
Multi Year, create short and long term plans
Multi User, users can budget in the web
Multi Company, plan over more than one company add new companies easily
Multi Currency
Scenarios, actual, budgets, forecasts, compare side by side
Financial Consolidation
Management Reporting
Workflow
Fixed Asset register for asset planning.
Direct Integration to ERP Systems
Integrated Financial Planning Process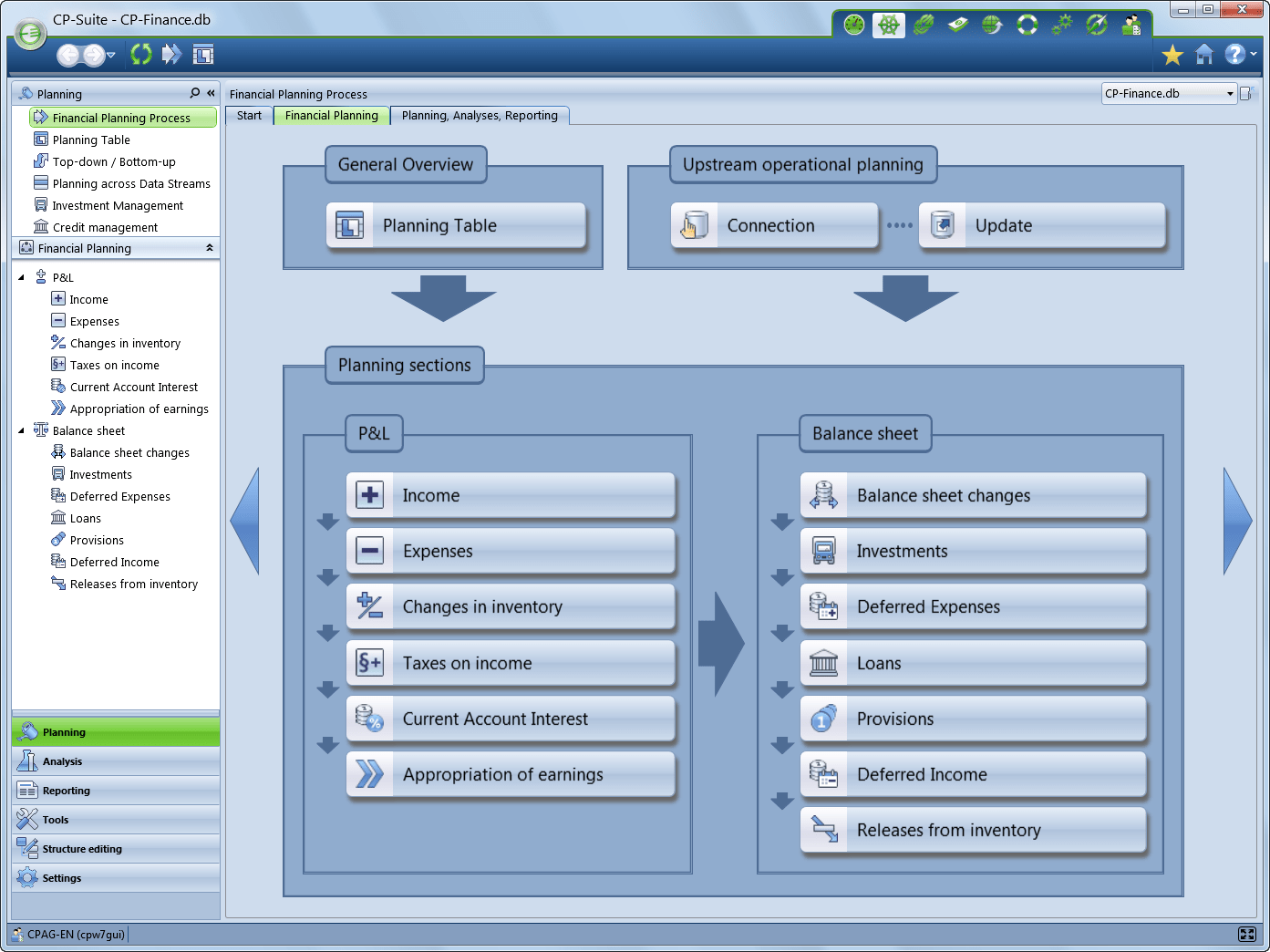 CP Finance starts with a work flow to guide the user through the financial planning process
CP Finance provides simple solutions for the demands of my day-to-day work in corporate performance management – so simple that even those less experienced users among us are able to maintain the system
Stephan Gandelheidt
Operations Management
Flexible financial planning structures
With CP Finance there are some predefined IFRS and local GAAP chart of account structures. These predefined structures are customizable and ensure a rapid implementation. The users can also create their own accounting structures.
More than one chart of account classification structure can be defined within CP Finance. This ensures that for multiple company planning each company can have a common or bespoke chart of accounts structure. This can be particularly useful with multiple company plans that need to be consolidated onto a group structure.
CP Finance can report companies in a flexible group structures. Companies can be reported in any number of groups or sub groups. Generating different views is vital when looking at the simulation of purchase / sale of companies within a group.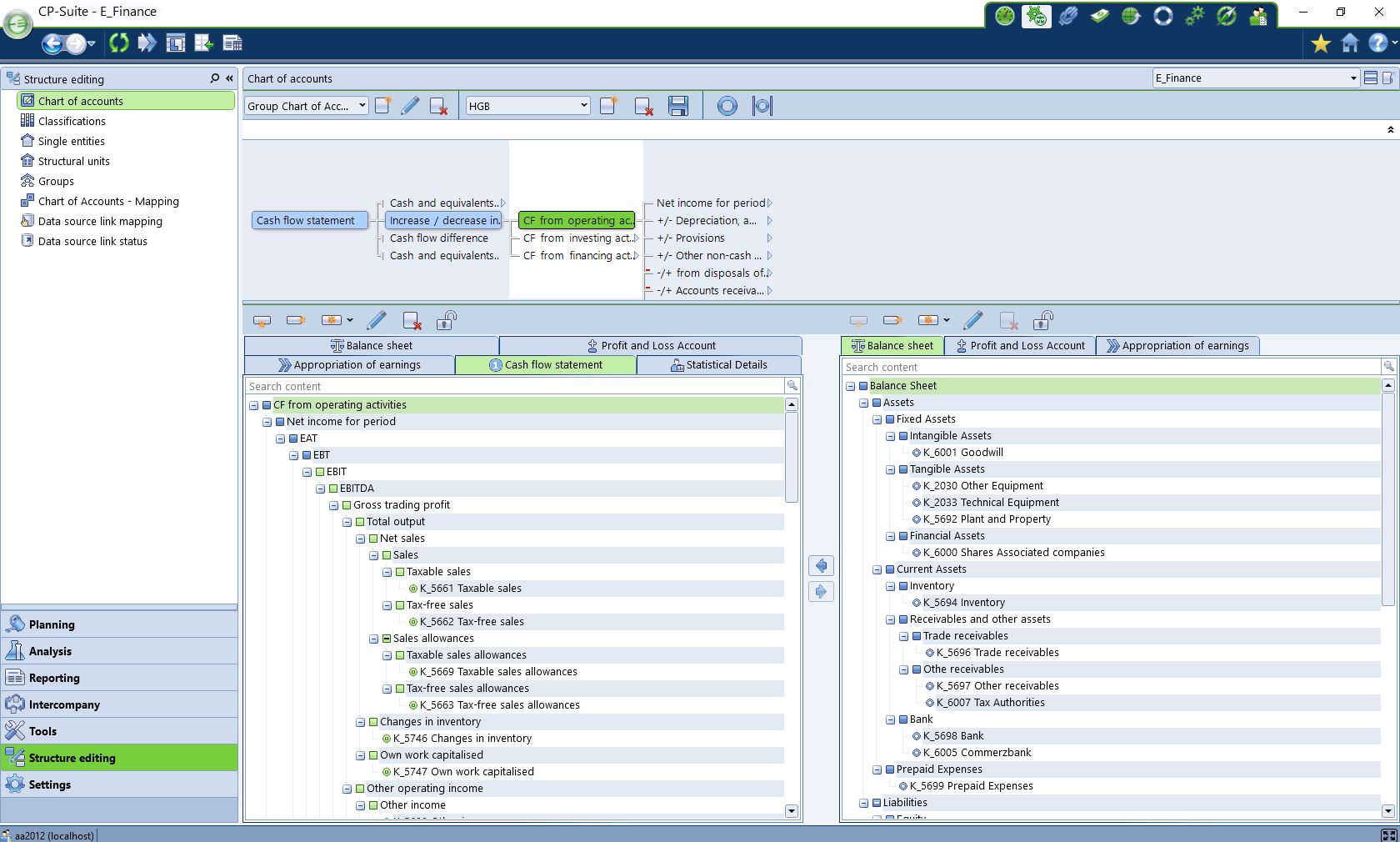 Integrated financial planning logic blocks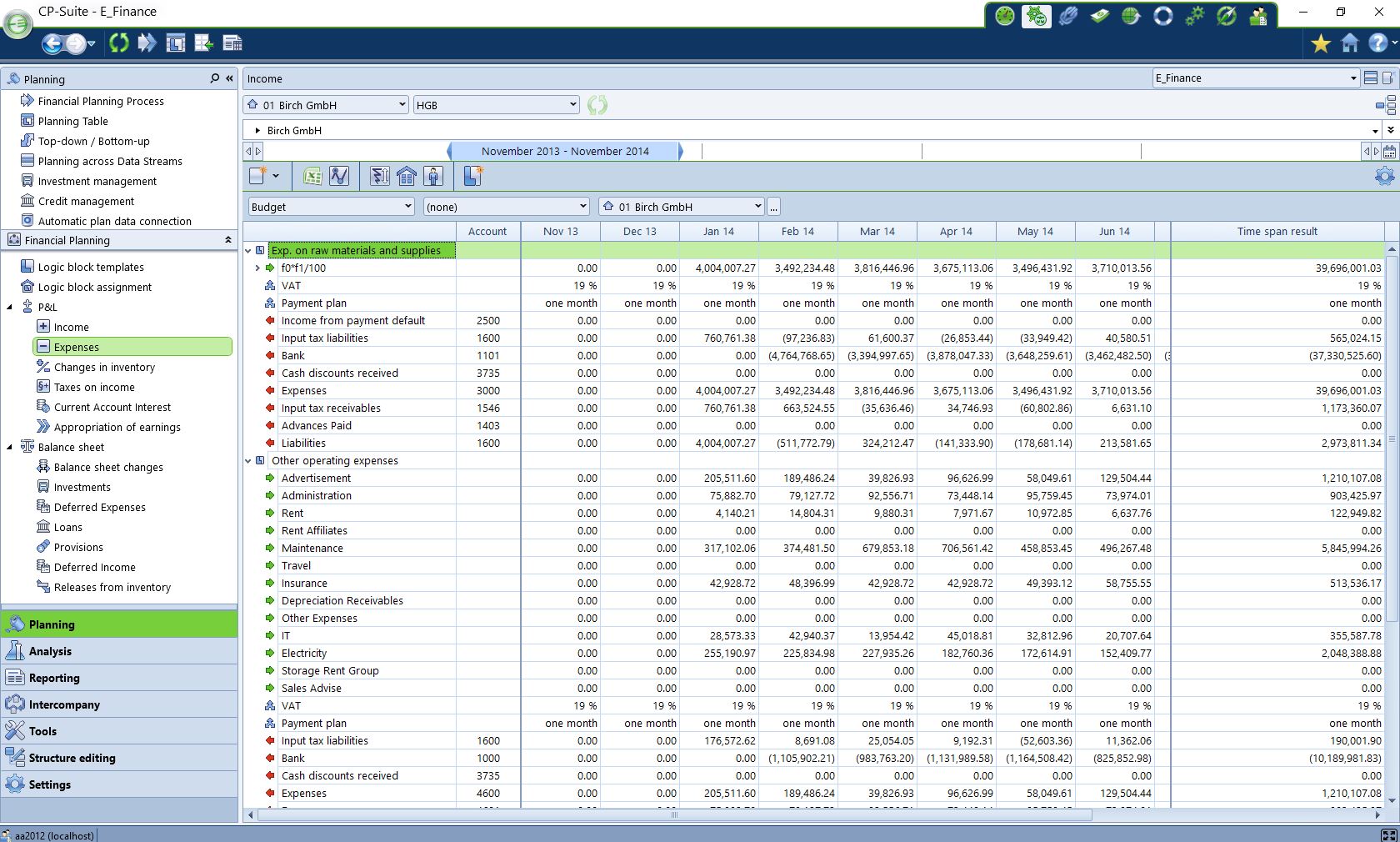 CP Finance has inbuilt financial planning logic blocks which enable rapid set up and connection of the business plan to the balance sheet and cash flow. The connections are made through simple dialogue boxes. The logic blocks can link directly to detailed operational Corporate Planner databases or be planned directly within CP Finance, payment and prepayment terms, can be set.
The ability of users to create models is important as like all CP-Suite products there are no programming skills / specialist IT knowledge required to use / maintain the planning models. Some competitor products have to be run by IT departments. Corporate Planning AG's ethos is that the finance, controlling and planning teams can create reports and maintain models and these should not be IT projects. The end users have a better understanding of the business planning processes and need to respond rapidly to changes in the business
Multiple Currency Planning
CP Finance has an inbuilt multiple currency functionality. As part of a company setup the base currency is defined. The exchange rate table allows for planning the currency conversion rates. A logic block as part of the balance sheet enables the currency difference to be automatically calculated. A company can be reported in any currency with a exchange rate matrix set up. This enables simple consolidation data across groups of companies in any currency.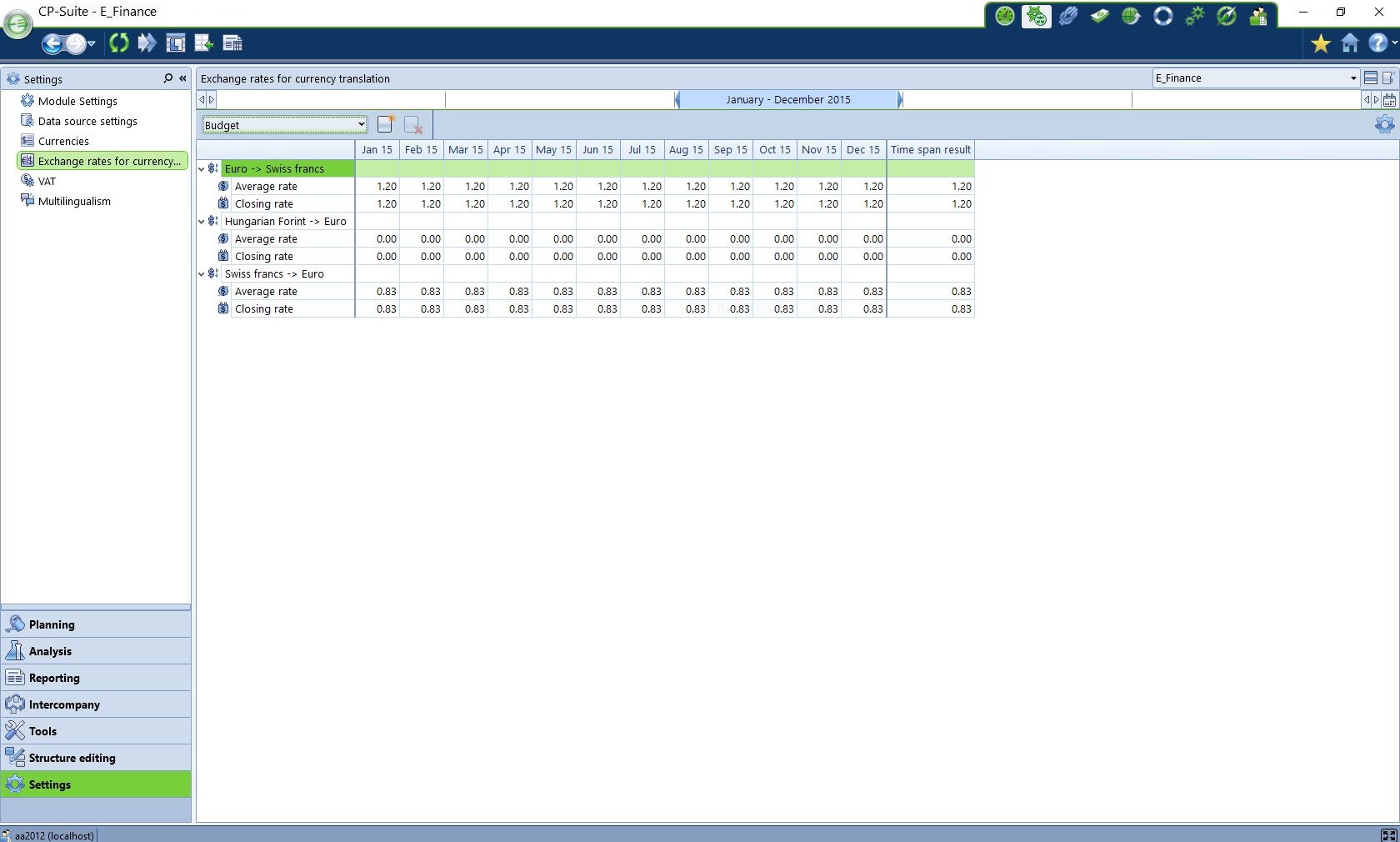 Integration with Consolidation Application
As part of the CP Suite there is a dedicated financial consolidation application, it performs statutory consolidation of companies for actual, budgets and forecast scenarios. The consolidation application can be used standalone or with the integrated financial planning application